Citizen Reporter Tutorial
---
511 Alberta Citizen Reporting Program Goals
To provide consistent, reliable, accurate and timely information concerning roadway conditions to the traveling public.
During the winter months (October – April) 511 Alberta will be using road condition and weather reports to supplement other reporting. This information will be used on the 511 Alberta website, mobile app and 511 phone system.
This Program is for you to assist 511 Alberta by providing timely and accurate information based on your observations.
Safety
Important - Please ensure your safety at all times and do not report conditions while driving.
Please buckle up!
Don't dial and drive!
Types of Information to Report
The Citizen Reporting Program gathers data on road and weather conditions only.
The best course of action if you see a major incident is to safely dial 9-1-1.
All reported information will be evaluated by the 511 Operations Team
General Information
When reporting a condition for a road, the report is for the entire road segment, not just a small portion.
Always report the worst condition observed on a specific segment while observing the 80/20 rule.
Information reported through the app must be weather or road condition related.
Accuracy of incoming reports is very important. Multiple inaccurate reports will cause your account to be flagged and your incoming data will no longer be used. Please refer to the online training information or the pictures included in the app at any time for a description of each condition.
511 Alberta has a sophisticated network of Road Weather Information Systems (RWIS) deployed throughout the province. These RWIS units collect road and weather data and transmit the data back to 511 Alberta.
511 Alberta also receives valuable road/weather information from the Highway Maintenance Contractors, snow plow operators, and Alberta Transportation Staff; and with the launch of the Citizen Reporter Program, trained volunteer reporters.
All of the incoming data is compiled with carefully crafted logic to determine the condition of the road surface. These varied sources of information are all extremely important and are used in different ways to determine road conditions. Without them it would be difficult to accurately notify the public.
Road Conditions
Please view the following Road Condition Photos. When you report, these will be the Road Condition types that are available to you.
Road Segments
A road segment is the specific representation of a portion of a road network in relation to the overall road.
Example: Highway 1 is the overall road. Saskatchewan Border to Medicine Hat is a road segment on Highway 1.
The 80/20 Rule
The 80/20 rule suggests that if more than 20% of the least preferred condition exists then the least preferred condition is the condition reported for that road segment.
Example: A road segment is reported as ice covered if more than 20 percent of its longitudinal length is ice covered and the rest of the road is snow packed, snow covered, partly ice covered, etc.
Road is Bare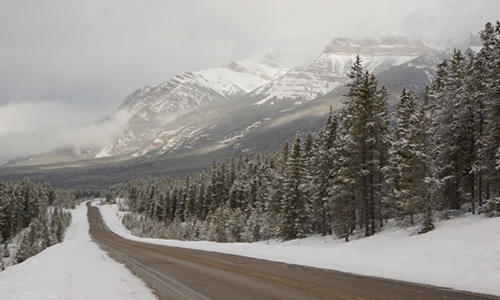 Bare includes:
Bare and dry: Within the segment, most of the road surface is bare and is free from wet areas and frozen precipitation.
Bare and wet: Within the segment, most of the road surface is moist or wet.
A bare condition applies to a road where all of the vehicle's wheels are on a bare surface. Within the bare condition, the road could be dry or wet. Small patches of snow and ice may be present.
Road is Partly Covered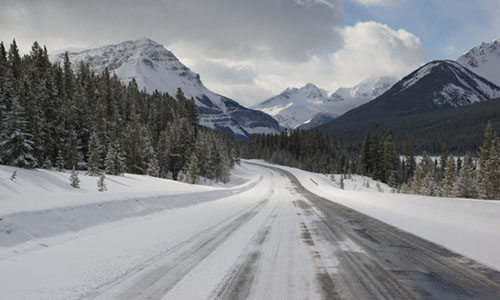 A partly covered condition means that only two wheels of a vehicle are on a bare surface. The rest of the road is covered by snow or ice.
Partly covered includes:
Partly Ice Covered: Within the segment, two wheels are on bare surface and other wheels likely on ice.
Partly Snow Covered: Within the segment, two wheels are on bare surface and other wheels likely on loose snow.
Partly Snow Packed: Within the segment, two wheels are on bare surface, other wheels likely on snow bonded with road.
Road is Covered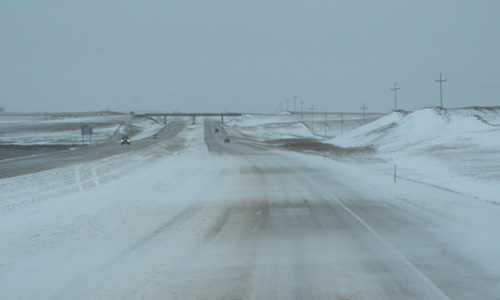 A covered condition means that all wheels of a vehicle are on snow or ice.
Covered includes:
Ice Covered: Within the segment, all wheels are on ice.
Snow Covered: Within the segment, all wheels are on loose snow.
Snow Packed: Within the segment, all wheels are on snow bonded to road.
Secondary Conditions
These are conditions that affect driving but not necessarily the road surface itself.
Snowing
Within the segment, snowflakes are falling from the sky.
Freezing Rain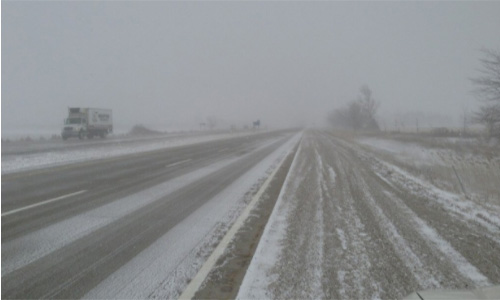 When rain or drizzle falls onto sub-zero surfaces and freezes on contact forming a layer of ice.
Fog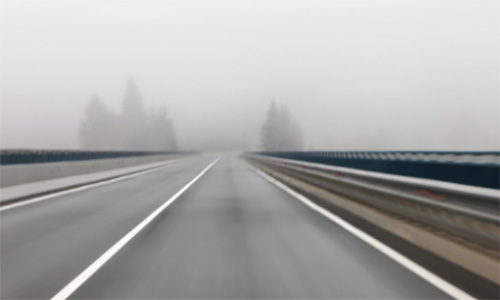 Within the segment fog is present and as a result visibility is less than 500 meters. Driving any vehicle in low visibilities due to fog can be hazardous; therefore speeds should be reduced accordingly.
Drifting Snow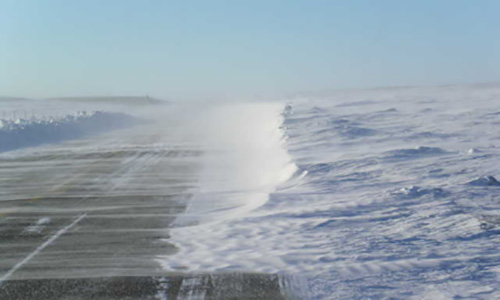 Within the segment previously fallen snow is being transported through the air or across the pavement by wind, causing snow to mound up.
Shoulder Ice/Snow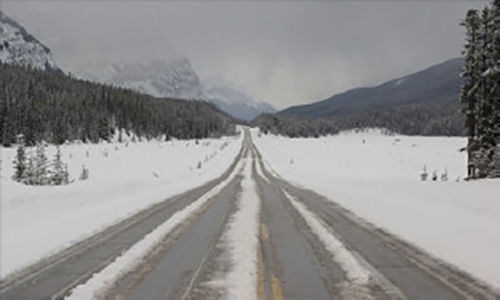 Within the segment, the shoulder (the portion of a highway that provides lateral support to the roadway) is covered or packed with snow or ice.
Strong Wind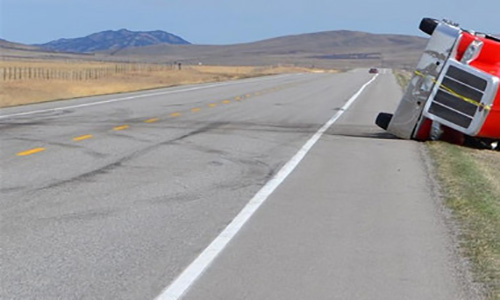 When there is a wind warning for your area, you should expect inland winds to be blowing steadily at 60-65km/h or more, or winds that are gusting up to 90 km/h or more.
Road Visibilities
Road Visibilities are the conditions that affect your ability to see the road, other traffic and your surroundings.
Good Visibility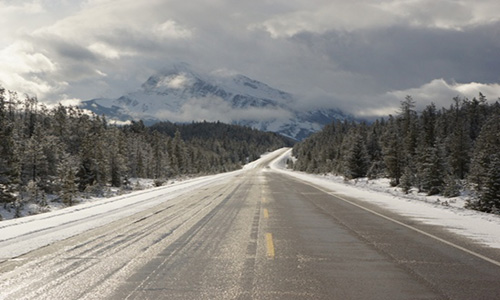 Visibility is more than 500 metres over the entire segment.
Fair Visibility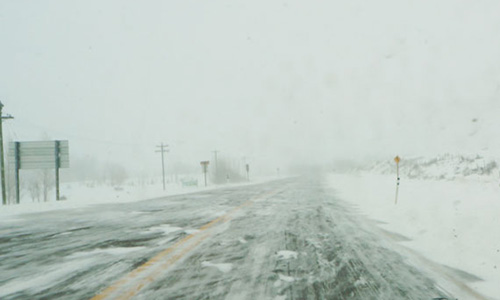 Visibility is fair when your range of vision is reduced between 250 and 500 metres within the segment.
Poor Visibility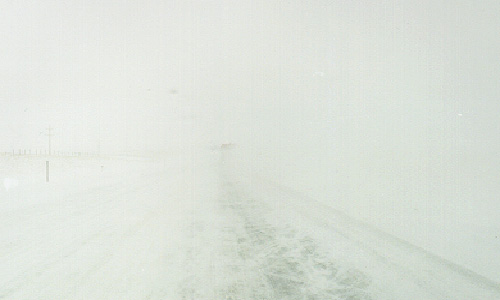 Visibility is poor when at certain locations, conditions may suddenly reduce visibility to less than 250 metres.
Reporting Process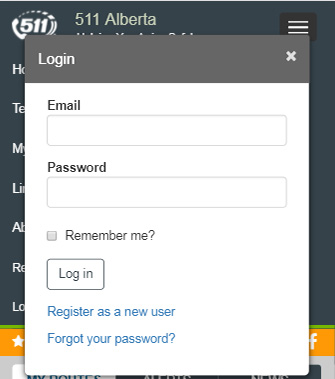 The Citizen Reporter function is available through the 511 Alberta website.
You need to sign up for a My 511 account, verify your email address, and finish the quiz, and be approved to become a Citizen Reporter.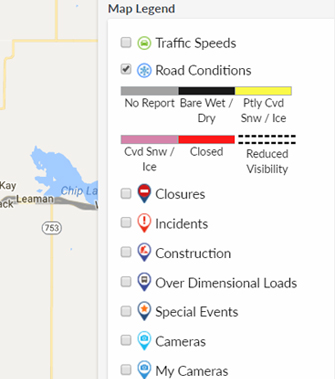 Once your account has been approved, you may begin reporting.
Activate the Road Conditions layer from the Map Legend and click OK.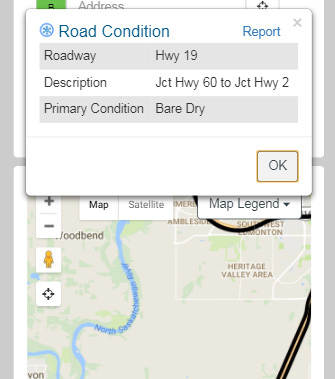 Click on the road segment to see current road conditions.
Click the Report link to enter your observations for the road and weather conditions.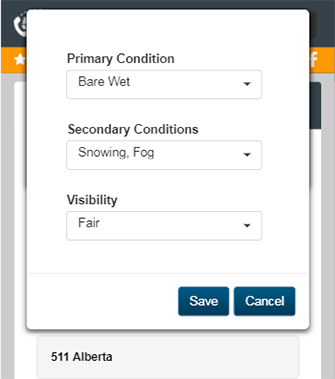 Select one primary condition, applicable secondary conditions and visibility and click Save.
DO NOT report while you are driving.
Compliance with distracted driving legislation
Participants must comply with provisions of the Traffic Safety Act, including section 115.1 which provides that "no individual shall drive or operate a vehicle on a highway while at the same time
holding, viewing or manipulating a cellular telephone, radio communication device or other communication device that is capable of receiving or transmitting telephone communication, electronic data, electronic mail or text messages, or
holding, viewing or manipulating a hand-held electronic device or a wireless electronic device".
the fine for distracted driving: $287 fine and three demerit points.
Guidelines
Thank you for volunteering for the 511 Citizen Reporting Program! We are looking forward to utilizing the condition information you submit to help create reports to the public.
Please review the following guidelines.
Program guidelines:
The 511 Alberta citizen reporting program is completely voluntary. 511 Alberta cannot reimburse a citizen reporter (herein referred to as 'CR') for their time, data usage, mileage, or any other type of reimbursement.
Please DO NOT report road and weather conditions while you are driving.
Please report on the routes you travel the most.
Feel free to report on other routes that 511 Alberta is requesting information on when you travel those routes.
Please report conditions to the best of your knowledge, using the tools and training provided. Reports are used for information purposes only and not used for dispatching plows, picking up animal carcasses, road repair, or dispatching police.
Alberta Transportation will use the information provided only for administration of the Citizen Reporter Program. Questions about the program can be directed to Trans.511@gov.ab.ca.