WHAT'S NEW
West Calgary Ring Road
The West Calgary Ring Road includes a new bridge over the Bow River, interchange construction on the Trans-Canada Highway at Valley Ridge Boulevard NW and at Stoney Trail. New interchanges will also be constructed at Old Banff Coach Road SW, Bow Trail SW, 17 Avenue SW and Highway 8. Motorists should expect delays in the project area.
For more project information, please visit
westringroad.ca
.
Southwest Calgary Ring Road

The Southwest Calgary Ring Road will be built between Highway 8 (near Elbow Springs Golf Course) and Macleod Trail S.E. The project includes reconstruction of Glenmore Trail between Sarcee Trail and east of 37 Street S.W. It consists of 31 kilometres of six- and eight-lane divided highway, 14 interchanges, 47 bridges, one road flyover, one railway crossing (flyover), one culvert set, one tunnel, as well as three river crossings over the Elbow River and Fish Creek. For more details, please visit http://www.swcrrproject.com/.
Kicking Horse Canyon Project

*Note: With Phase 4 construction not beginning until fall 2020, driving conditions on the Trans-Canada Highway through the Kicking Horse Canyon during spring and summer 2020 will be as normal, subject only to the factors that typically exist during this period such as routine or emergency maintenance and natural events. Visit https://www.drivebc.ca/ for more information on travelling in British Columbia.

The Kicking Horse Canyon, located just east of Golden, BC, is one of the most rugged and scenic sections to be found on the Trans-Canada Highway. As a tourist and commercial transportation corridor, the highway carries more than 10,000 vehicles daily during the summer. While the mix varies by season, up to 30% of the traffic consists of commercial vehicles moving millions of dollars in goods to serve interprovincial and international trade. Three phases of work have transformed 21 kilometres of narrow, winding two-lane highway into a modern four-lane, 100 km/h standard. Construction of the fourth and final phase to complete the remaining – and most difficult – 4.8 kilometres is expected to begin in fall 2020. For more information about this project, please visit http://www.kickinghorsecanyon.ca.
There are currently no advisories at this time.
Shift into Winter
When winter hits, nearly 700 snowplows and other snow removal equipment work to keep Alberta's highways clear and open to traffic. Snowplow operators are committed to maintaining safe winter driving conditions, but drivers have a role to play too. Visit
https://www.alberta.ca/safer-winter-highways.aspx
for some tips on safe winter driving.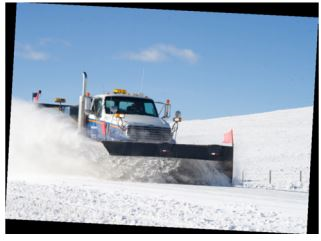 Winter Recreation in Alberta Parks
Winter can be an incredible time to explore Alberta, but it's a lot different from summer recreation. Here are a few tips to help you stay safe on your winter adventures:
- Be prepared to not have cell service, especially in the mountains. Consider carrying a GPS device like Spot or InReach.
- Plan your trip around the sun for warmth and daylight.
- Snowpack can hide the trail. Pay attention and know how to use a map.
- Dehydration expedites the onset of hypothermia, so stay hydrated.
- Wear layers and bring appropriate footwear like crampons or microspikes.
- Know your limits and do your research before you go. A photo on social media doesn't tell you the experience and knowledge that went into it.
- Check avalanche conditions before you recreate in the mountains:
www.avalanche.ca

For more information on how you can stay safe in Alberta Parks this winter, visit: https://albertaparks.ca/wintersafety/