WHAT'S NEW
West Calgary Ring Road
The West Calgary Ring Road includes a new bridge over the Bow River, interchange construction on the Trans-Canada Highway at Valley Ridge Boulevard NW and at Stoney Trail. New interchanges will also be constructed at Old Banff Coach Road SW, Bow Trail SW, 17 Avenue SW and Highway 8. Motorists should expect delays in the project area.
For more project information, please visit
westringroad.ca
.
Southwest Calgary Ring Road

The Southwest Calgary Ring Road will be built between Highway 8 (near Elbow Springs Golf Course) and Macleod Trail S.E. The project includes reconstruction of Glenmore Trail between Sarcee Trail and east of 37 Street S.W. It consists of 31 kilometres of six- and eight-lane divided highway, 14 interchanges, 47 bridges, one road flyover, one railway crossing (flyover), one culvert set, one tunnel, as well as three river crossings over the Elbow River and Fish Creek. For more details, please visit http://www.swcrrproject.com/.
Kicking Horse Canyon Project

*Note: With Phase 4 construction not beginning until fall 2020, driving conditions on the Trans-Canada Highway through the Kicking Horse Canyon during spring and summer 2020 will be as normal, subject only to the factors that typically exist during this period such as routine or emergency maintenance and natural events. Visit https://www.drivebc.ca/ for more information on travelling in British Columbia.

The Kicking Horse Canyon, located just east of Golden, BC, is one of the most rugged and scenic sections to be found on the Trans-Canada Highway. As a tourist and commercial transportation corridor, the highway carries more than 10,000 vehicles daily during the summer. While the mix varies by season, up to 30% of the traffic consists of commercial vehicles moving millions of dollars in goods to serve interprovincial and international trade. Three phases of work have transformed 21 kilometres of narrow, winding two-lane highway into a modern four-lane, 100 km/h standard. Construction of the fourth and final phase to complete the remaining – and most difficult – 4.8 kilometres is expected to begin in fall 2020. For more information about this project, please visit http://www.kickinghorsecanyon.ca.
There are currently no advisories at this time.
Alberta Parks - Kananaskis Region
Parking and Visitation Advisory

The most popular parks and sites are experiencing high visitor volumes, resulting in crowding of facilities, full parking lots and an increase in safety issues. Visit
https://albertaparks.ca/albertaparksca/visit-our-parks/find-a-park/find-your-park/
to find other areas to visit.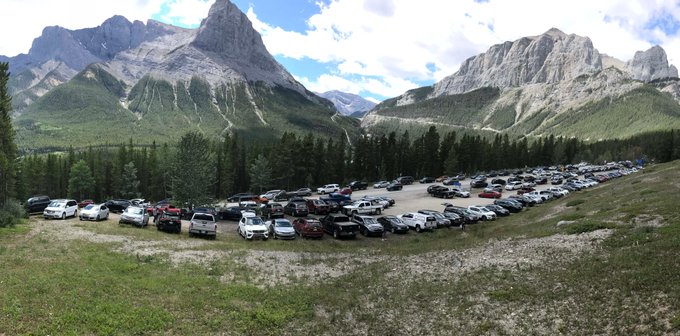 Parking lots at
Barrier Dam
and
Grassi Lakes Day Use
Area will be managed by traffic control staff to ensure emergency vehicles have access. Please do not park on the highway or roadway shoulders when parking lots become full. If the designated parking lots are full, plan to visit another area.
Grotto Mountain Day
and
Yamnuksa Day Use
Area
will be controlled as well. Please do not park outside of designated parking lots in these areas or on the highway or roadway shoulders; this creates a dangerous situation and impedes access by emergency vehicles.
Additional Parks outside of the Kananaskis area may also have restrictions in place. Be prepared to adjust your plans depending on availability.
FREE PPE For Commercial Drivers
Commercial drivers traveling through or within Alberta, can access free PPE kits at the following Vehicle Inspection Stations (VIS): Coutts, Balzac, Leduc, Slave Lake, Whitecourt and Atmore. Included in the kits is an insert with a "thank you" to commercial drivers and some tips on proper use of PPE.
the bins are located where inspections take place, not the drive-thru lane.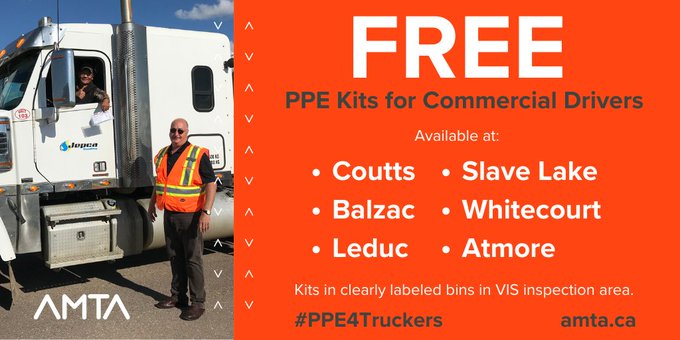 Alberta Network of On-Highway Facilities & Services Open to Truckers
Alberta Transportation is working with the commercial trucking industry to share on-highway services open to truckers across Alberta as they continue to supply goods during the COVID-19 response. Information on this map has been provided to Alberta Transportation from the Alberta Motor Transport Association as a service to the commercial trucking industry.
To access the map, click the link below:
https://abtrans.maps.arcgis.com/apps/webappviewer/index.html?id=993f27dba87b4f69a760b26bfce85b64
*for the best experience, please use Google Chrome